<![if !vml]>
<![endif]>
April 8-9, 2005 – Leader Training and Day with Kay Arthur of Precept Ministries
Friday, April 8th was an all-day training and information session for Precept Ministries Inductive Bible study leaders held at Bramalea Baptist Church. Tom and Jane Hart, Directors of Precept Ministries Canada hosted the day and presented information to leaders on their vision and forward looking plans for Precept Ministries in Canada. Jane shared on such topics as being on the 'right bus'and used illustrations from the "Hedgehog and Fox" business training currently available. Precept Ministries is acknowledged as the leader in Inductive Bible study methods and materials in the world and wants to continue living their mandate of bringing God's word to the world, line upon line, precept upon precept. Before each session, Stephen Hinkle from Lakeland Evangelical Free Church Chicago led praise. Stephen and Tom & Jane's daughter Liz are engaged to be married this summer and will reside in the Chicago area.
One highlight of the training sessions was the panel discussion by four Pastors who have embraced Precept Inductive Bible studies in their churches. Some have made them almost a mandatory part of any new believers journey in their spiritual growth. Others have run Precept courses for over ten years as part of a community outreach.
The leaders training and information sessions were in advance of the 'Day with Kay' to held the next day. That evening Kay hosted a desert evening for the leaders and presented certificates to those who have been teaching Precept Studies for at least five years. She shared her vision for Precept Ministries – especially here in Canada and urged leaders to support Tom and Jane by prayer and tangibly in order to be able to 'go through' the many doors of ministry that the Lord is presenting to them here in Canada.
Here are some pictures from the training day and desert evening.
<![if !vml]>
<![endif]>  <![if !vml]>
<![endif]> 
Tom Hart, Director of Precept Canada welcomed us   Stephan Hinkle led anointed Praise & Worship
<![if !vml]>
<![endif]>  <![if !vml]>
<![endif]>
 The panel discussion Precept in their churches    Marg reviewing the Inductive Study Bible with Precept Staff
<![if !vml]>
<![endif]>  <![if !vml]>
<![endif]>
   The fantastic desert table (formed a Cross)      Kay after presenting Marg with her 5-year certificate
<![if !vml]>
<![endif]> <![if !vml]>
<![endif]>
Jane and Tom  Hart with Kay –Team says it all!     Ian between two ministries that TCM* believes in!
Saturday morning saw over 500 people gather at the church in Brampton for a full day and evening under the anointed teaching of Kay Arthur. Again praise and worship was led by Stephen Hinkle whose love for the Lord and for praise music that honours Him was so evident in his selections. Tom and Jane Hart again presented valuable information about Precept Ministries. In addition, they introduced Barry Slauenwhite of Compassion Canada. Barry spoke of the great work that Compassion has been doing to bring Christ to children and young people around the world.
Kay, in her wonderful way presented god's Word from II Chronicles and II Kings, talking about such kings of Israel and Judah as Uzziah, Josiah, Hezekiah and others in the light of today's situation in Canada and the US. Kay's heart is for the people of God to be immersed in the Word of God and live that Word. She presented several sessions right through until nearly 10:00 at night. Kay is so approachable and loves to meet people who have discovered the wonderful secret of Inductive bible Study.
At Three Cord Ministries we use Kay's teaching material exclusively for our Bible studies and recommend visiting the Precept Ministries website (also Precept Ministries Canada) in order to see what is available and to see what studies are going on in your area.
Here are some pictures from Saturday.
<![if !vml]>
<![endif]> <![if !vml]>
<![endif]>
 The auditorium at Bramalea Baptist was packed  We all loved the praise time – Praise the LORD!
<![if !vml]>
<![endif]> <![if !vml]>
<![endif]>
Kay is always animated when she is 'in His Word'    Kay took time to sign books for attendees
                                                                                   (Jeanette attends a TCM* Bible Study)
<![if !vml]>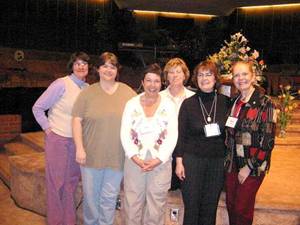 <![endif]>
Some of our friends who attended the day
*TCM (Three Cord Ministries)