<![if !vml]>
<![endif]>
May 29, 2004: Precept Ministries Men's Breakfast & Leadership Workshop
Saturday dawned sunny and warm as a Rick Moir, Paul Foreman and I from New Life Church went off to the Precept Ministries Leadership Network Workshop in Brantford, West of Toronto. Over 35 men from many churches around the Western Toronto area attended this workshop on Leadership accountability and "controlling desires and thoughts".
The day started off with a welcome by Tom Hart, Director of Precept Ministries Canadian office. A wonderful continental breakfast was served before the first session. The workshop presenters included Pastor Jack Correll & Mr. Lew Aubrey of Guelph Bible Chapel, Paul Gadsby and Tom Hart of Precept Ministries. The focus of the sessions was on building men's ministries by having accountable leaders. Men in leadership must be in control of their thoughts and desires and passions in order to lead men in a God-pleasing way.
The new '40-Minute' study book entitled "How Can a Man Control His Thoughts, Desires and Passions" written by Bob Vereen of Precept Ministries (USA) was used as the guide material. It was emphasized that this book can be used on its own as a core study for a beginning men's group or as a tool for those interested in leading men in a church setting.
After the two mini-sessions, small groups were formed to discuss leadership issues. Later, a lunch was served and a time of sharing followed. This day was the first of hopefully many more to focus on building strong men's ministries and showing how the Bible speaks about men's leadership roles in the Christian world.
Ann Rogers of Precept assisted on the day in the bookshop, organizing the meals and cooking the delicious date squares. Thank you Ann!
Here are a few pictures from the day.
<![if !vml]>
<![endif]>  <![if !vml]>
<![endif]>
Rick(2) and his bike, Rick & Paul from New Life         Continental breakfast was served
<![if !vml]>
<![endif]>  <![if !vml]>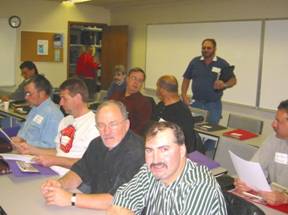 <![endif]>
                                      Getting ready for the workshop sessions
<![if !vml]>
<![endif]> <![if !vml]>
<![endif]>
    Pastor Jack Carroll of Guelph Bible Chapel         Paul Gadsby taking the 2nd session
<![if !vml]>
<![endif]> <![if !vml]>
<![endif]>
 Paul & Rick with Tom Hart sharing over lunch          Fellowship in the sunshine – a wonderful time