We are celebrating 19 years of Christian outreach called to minister the centrality of Jesus Christ
and the love of the Father by the power of the Holy Spirit through ...
Three Cord Ministries holds to the Biblical sanctity of Christian marriage as being only between one man and one woman to the exclusion of all others.
Three Cord MInistries holds to the Biblical sanctity of life that it begins at conception and is not ours to end.
Click on the text below to see all our Faith Statements.
Follow us on:
Facebook - Twitter - Newsfeed - Blog
RENTAL SCAM!!!
A copy of my driver's license is being used in rental scams as verification of the landlord's identification.

If you encounter this fraud, DO NOT SEND MONEY!!!

Contact your local police and give them all the details for investigation.

Thank you TCM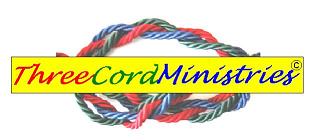 Click on our logo to go the rest of our website. We trust you will be blessed.
This website is designed, maintained and copyright (c) 2003, 2004, 2005, 2006, 2007, 2008, 2009, 2010, 2011, 2012, 2013, 2104, 2015, 2016, 2017, 2018, 2019, 2020, 2021, 2022 and 2023 by Ian Ridpath. This page was last updated on January 1, 2023.