Our passion is to spread the Good News of Jesus Christ in whatever way we are called to do so through the Word, Worship and Witness.

We have offered in the past, Precept Ministries Inductive Bible studies (see our separate Bible Studies page), marriage and pre-marriage courses and presently come alongside any who need prayer ministry and comfort.
Finally, we are called to minister through Praise and Worship leadership, Small group retreats and itinerant teaching.
For more information on any of our ministries, please Contact Us
Praise and Worship Leadership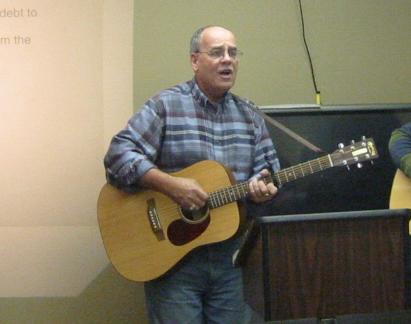 Ian leading Praise at an Alpha retreat, in Salluit, Nunavik and in Nain, Northern Labrador.
One of Ian's passions is to praise the Lord in music and song especially with small groups such as Alpha Retreats, Men's Retreats and with in-home study groups. He also longs to see vibrant Men's Groups spring up in churches and to instill a desire for men in these groups to "get into the Word".
Please contact us
to find out more.
Small Group Retreats
Marg's heart is to teach the Word of God to Women.
Through her training in the Precept Ministries inductive Bible study methods and through passionate study herself, Marg has lead many small group Bible studies. Her gifting is passionately presenting the Word of God to small or large assemblies especially in 'retreat' settings. Marg is available to teach these Bible study methods and encourage others to do the same.
Ian is involved in several men's groups and leads worship on retreats. He also brings the Word of God to small groups in retreat settings.
Please contact us
to find out more.
Itinerant Preaching and Teaching
Ministering in Northern Canada
Ian's heart is to bring Men into a deeper understanding of the Father's heart.
Through an itinerant teaching model, the Word of God can be shown to be alive and relevant even in today's 'upside-down' world. Life experiences, teaching gifts and studying specific aspects of the Word has allowed Ian to minister to many types of small groups.
Please contact us
to find out more.
For other Christian Drama resources please visit Drama Share.